CHAS is the sole provider of children's hospice care across Scotland. We are with families, often from the point of diagnosis, through challenging times and our services extend from medical care through creative therapies and memory-making to specialist bereavement support. Our services are available in the form of respite care within either of our purpose-built hospices, as at-home care through our outreach service or through the strong presence we have established in hospitals.
In short, it is our aim to be there for families wherever and whenever they need us as they face the harsh reality of losing their child before they reach adulthood.
From research, we now know that CHAS reaches only one in three of the children in Scotland who die each week from an incurable condition. We are determined to reach every family who needs us and are working to extend our services to ensure we do.

Horatio's Garden is a national charity creating and nurturing beautiful gardens in NHS spinal injury centres to support everyone affected by spinal injury. They grow thriving communities to support patients, their families and friends facing long stays in NHS hospitals. Leading landscape designers create the sanctuaries, in collaboration with prominent architects, ensuring the gardens can be used all year round. Once open, each Horatio's Garden is cared for by a dedicated team of volunteers, who are led by a Head Gardener. They nurture the garden, offer patients and visitors endless amounts of tea and homemade cake and support the therapeutic activities run by the charity. To date, Horatio's Garden have planted hope in Salisbury, Glasgow, Stoke Mandeville and Oswestry. They are currently working on projects in London and Cardiff and aim to bring Horatio's Garden to all the 11 spinal injury centres in the UK.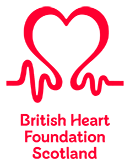 Our vision is a world free from the fear of heart and circulatory diseases. We raise money to research cures and treatments, so we can beat heartbreak forever.
The British Heart Foundation (BHF) was formed to save and improve lives through the power of research. In 1961 the only 'treatment' for a heart attack was bed rest. There was no such thing as a coronary care unit, a heart transplant, a statin, a stent or a defibrillator. Our research has transformed how we prevent, diagnose and treat a vast spectrum of heart conditions (vascular dementia, stroke and diabetes).

At Chest Heart & Stroke Scotland we believe no life should be half lived after a stroke, or diagnosis of a chest or heart condition. We offer help and support to people and their families who may be feeling isolated, fearful or anxious as a result of their condition. More people need our advice line, stroke nurses, rehabilitation support workers and peer support groups more than ever before. By donating you are helping people take back their lives, regain their confidence, and live life to the full.

The money raised will help us be there for more people struggling to cope. Samaritans is available 365 days a year, 24 hours a day for someone to turn to in a time of need. People contact us for many reasons including problems with mental health, relationship breakdown, family problems, money worries, work issues and suicidal thoughts. We couldn't have answered these calls without your support so thank you. You truly have helped us turn lives around for those people most in need.